Hello again, friends! How are we doing? Hopefully well, and if not, I hope brighter days head your way soon! I'm so happy to say that I am back for real this time, friends! I'm so sorry for my accidental disappearance—I ended up being swamped with schoolwork and then with final exams (ew!). But I'm finally free and I intend to get back to blogging like regular!
In all honesty, I didn't read too much, but hey, at least I managed to still read at all and something is better than nothing, right? So let's take a look at what I did manage to read, plus my other media favorites of April and May 2021!
what i posted
what i read
House of Hollow by Krystal Sutherland (

★

★★★☆

) In the past few years, I've found that I really enjoy kind of eerie, haunting fantasies, so this book was right up my alley! Plus, Suthherland's beautiful prose was the cherry on top of this weird and wonderful "fairy tale gone sideways." As a reader familiar with fairy lore, I was certain I knew where this story was going, but I was surprised and delighted to find that Sutherland twisted familiar lore in a new and completely creepy way! Readers who are fans of tighter fantasies with detailed, clear magic systems might find this book lacking, however, due to the fact that its fantasy elements are very foggy and ethereal. Overall, I really enjoyed House of Hollow and I can't wait to see where Sutherland's writing goes from here!
The Gilded Ones by Namina Forna (

★

★★★☆

) I enjoyed this book so much! If you're looking for a fantasy book full of plenty of action, a good bit of mystery, feminism and sisterhood, and even an adorable animal sidekick thrown in the mix too, then The Gilded Ones is for you! All of the characters in this book were so unique and lovable, and the premise was something I've never seen before. I'm gonna be real: given the basic premise, at first I was wondering how Forna was gonna create an interesting story with high stakes, but I'm pleased to say that my worry wasn't necessary. All in all, The Gilded Ones was a super fun ride and I'm definitely looking forward to seeing where Forna takes the sequel!
what i plan on reading
clearurshit v 1.5 tbr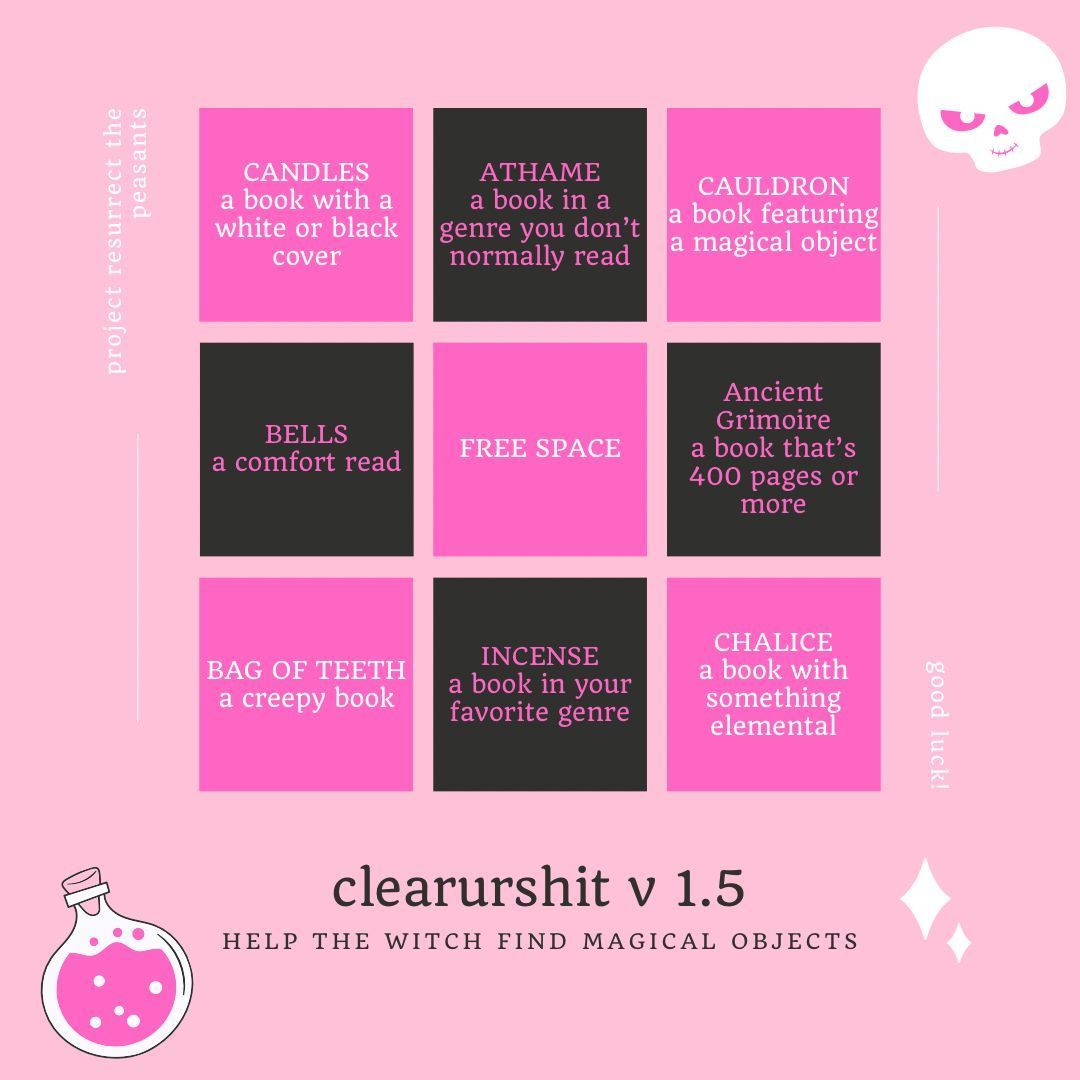 | | | |
| --- | --- | --- |
| candles | black or white cover | These Violent Delights by Chloe Gong |
| athame | genre you don't normally read | Ace of Spades by Faridah Àbíké-Íyímídé |
| cauldron | features a magical object | One Last Stop by Casey McQuiston |
| bells | comfort read | The Beautiful Ones by Silvia Moreno-Garcia |
| FREE SPACE | FREE SPACE | Witches Steeped in Gold by Ciannon Smart |
| ancient grimoire | 400+ pages | The Wolf and the Woodsman by Ava Reid |
| bag of teeth | creepy book | Blood Like Magic by Liselle Sambury |
| incense | favorite genre | For The Wolf by Hannah F. Whitten |
| chalice | involves something elemental | These Feathered Flames by Alexandra Overy |
what i acquired from publishers
Thank you to the lovely publishing book fairies who granted my wishes and gave me access to these ARCs!
what i watched
Obviously, as a member of the YA book community, as well as a big fan of Leigh Bardugo's Grishaverse works, there was no way that I wasn't gonna immediately begin watching Netflix's new adaptation of Shadow and Bone and Six of Crows! So far I've made it about halfway through the series (I had to pause because of finals) and ohmygod I love it so, so, soooooo much!!! I honest to god think this may be one of—if not the—best YA fantasy adaptations I've ever seen! I love everything about the show and its adaptation of the source material! It mostly stays true to Leigh's books and changes only what is necessary, but in ways that are authentic to the original stories and the characters involved. The one qualm I have is the show's depiction of racism, which was definitely an issue, but aside from that the show is a new favorite!
what i listened to
high notes
"Blinding Lights" by The Weeknd Am I late on the uptake when it comes to being obsessed with this song? Yes. Will we be discussing my lateness? Absolutely not!
"Still Don't Know My Name" by Labrinth I love Labrinth's mix of pop and soul in this song! It's interesting to hear a song that maintains the techno-esque sounds of modern pop, while also having the evocative, growling gravitas of soul music, but I think "Still Don't Know My Name" manages to find the perfect balance. Definitely give this one a listen.
"MONTERO (Call Me By Your Name)" by Lil Nas X Besides being a certified bop, it's also so great to see Lil Nas X fearlessly embracing his queer identity. What an icon. We love to see it!
"jealousy, jealousy" by Olivia Rodrigo Rodrigo burst onto the teen pop scene this past May and, what can I say, I'm a fan. Her voice is outstanding and she's clearly a talented songwriter as well. I'm loving this song, as well as the rest of SOUR, and I'm looking forward to watching her inevitable rise!
what i bookmarked
This wrap-up, I wanted to diverge from my normal huge list of posts to highlight only the above three posts from Bertie of Luminosity Library, Rosina of Lace And Dagger Books, and Esmée of Servillas Speaks and to really encourage you to read these posts. These bloggers touched on issues that are close to my heart not only because these issues personally affect me (and millions of other readers and bloggers) as a disabled and poor reader/book blogger, but also because they deal with marginalized identities that the book community frequently overlooks, speaks over, and, yes, even stigmatizes. I cannot describe how lovely it is to see bloggers speaking up about poverty and disability and Bertie, Rosina, and Esmée spoke on these topics in such a knowledgeable and respectful manner. If you read any posts this month, please make it these three posts.
what i did in april & may 2021
April was a massively stressful month for me, due to the fact that it was absolutely packed with essay assignments and projects which led up to final exams (which, for me, took place during the last week of April). Honestly, April was excruciating and left me physically, mentally, and emotionally exhausted and I'm so f*cking glad that it's over. That being said, I'm excited to have what will hopefully be a (much deserved) relaxing summer "break" (I don't take summer courses) before the Fall 2021 Semester begins. Speaking of the Fall 2021 Semester, my school is partially returning to in-person classes in the fall and I'm beyond overjoyed to say that two out of three of my Fall 2021 Semester classes will be 100% in-person (honestly I'm so happy I could weep for joy)! I'll be re-taking General University Physics I and Calculus II, both of which I was taking in March 2020 when we first went into quarantine (hence the reason I need to re-take both) and both of which will be 100% in-person classes this fall, and in addition, I've also registered for Logic I. I'm so excited for these classes and to return to campus! So I'm happy to say that after what has been two and a half absolutely hellish semesters online and in quarantine, I think I have a lot to look forward to!
what i've got planned for june 2021
Honestly, I don't have anything other than relaxing planned for this June and thank god for that! I'm fully vaccinated and I've got a few friends who are also fully vaccinated, so I've got some loose plans to spend some time with them, which I'm looking forward to as well. And, of course, I've got asperations of getting right back to reading too, haha! Honestly, given how much time school has taken up in the past semester, on top of how many amazing books are releasing this summer, my TBR is completely overflowing! So, I'm definitely gonna attempt to get on top of that asap. Other than that, though, my summer break is wide open and full of plenty of opportunity, so I'm excited to see what's to come!
spill the beans, friends!
How have the past two months been for you?
What are you looking forward to in June?
What have you been reading lately?
What's on your June TBR?
check out my carrd for info on how to change the world!