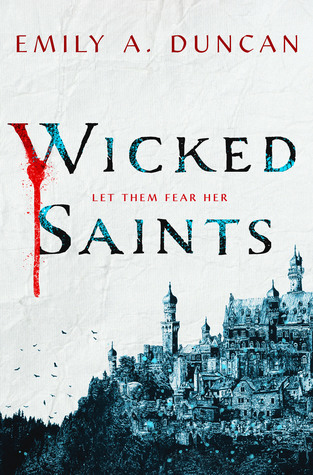 Title: Wicked Saints
Author: Emily A. Duncan
Format: Audiobook
Narrators: Natasha Soudek and Tristan Morris
Run Time: 10 hours, 55 minutes
Source: Purchased
Trigger Warnings: !!MASSIVE warning for blood magic!!, violence, gore, death of a loved one, child abuse
Synopsis: An instant New York Times bestseller!A girl who can speak to gods must save her people without destroying herself.

A prince in danger must decide who to trust.

A boy with a monstrous secret waits in the wings.

Together, they must assassinate the king and stop the war.

In a centuries-long war where beauty and brutality meet, their three paths entwine in a shadowy world of spilled blood and mysterious saints, where a forbidden romance threatens to tip the scales between dark and light. Wicked Saints is the thrilling start to Emily A. Duncan's devastatingly Gothic Something Dark and Holy trilogy
Oh, y'all. *sigh*
I wanted Wicked Saints to be one of my new favorites so bad. I mean, a Russian inspired, heavy metal-esque YA high fantasy kinda retelling of Leigh Bardugo's Grishaverse's Alina Starkov and The Darkling romance? My first thought was sign me up! Alas, this book left me pretty disappointed. Maybe the hype got to me and my expectations were too high. I can't say. All I can say is that Wicked Saints left me wanting—and I don't mean that in a positive sense…
W H A T   I   L I K E D
The Atmosphere! Where Wicked Saints truly excels, is in the creation of its atmosphere, which was truly unique. If you're looking for a heavy metal-esque Russian YA high fantasy, this book is for you! From the angst-riddled romance to the goth-esque love interest (complete with long black hair, pale skin, and black clothing) and the bloody world, Duncan got it right in every little aspect of building the atmosphere of Wicked Saints. I also think that the voice actors chosen to narrate the audiobook absolutely contributed to the creation of the dark, metal atmosphere. They often used choked, growling alto voices for male characters and gritty, reedy soprano voices for female characters, which led the text to feel more like a heavy metal song. I've gotta applaud Duncan and the production team in the aspect of the atmosphere—it worked and it worked well!
The World Building! The world of Wicked Saints is somewhat complex, but it was easy to grasp on to thanks to Duncan's world building. From the settings to the history and culture, Duncan carefully crafted a vivid image of the world of Wicked Saints. The world building is rich and decadent and full of little details that just continue to build on each other in such a beautiful way. It was also a nice touch that Duncan added little snippets about the saints at the beginning of each chapter. Everything about the world was so immersive and distinct and I enjoyed it so much!
The Prose! For a debut author, Duncan shows a lot of promise in her prose, which held some pretty magical sentences. A lot of the magic of Wicked Saints was in the way Duncan chose to describe scenes. Her prose is quite elegant and poetic in places and it added an extra bit of flare to the story that I really liked.
W H A T   I   D I S L I K E D
The Pacing. My biggest gripe with Wicked Saints is definitely the pacing. It seemed like we spent the majority of the book setting up for the plot to happen with a bunch of exposition and then the plot only began to unwind in the last 25%. The first 75% of the book was spent introducing Nadya, Malachiasz, and Serefin and then having them do…well, nothing really, if I'm being honest. It made the book feel slightly lethargic in pace and I found it difficult to pick the book up again after putting it down because it felt like there was little to look forward to.
The Plot. When the plot finally did begin to unwind itself, I found myself incredibly confused. It all felt very unclear what was going on and why it was happening, largely because it felt altogether like way too much was going on all at once. I couldn't quite grasp how all of the plot threads and story lines were being tied together and, if I'm being honest, at a certain point it started to feel like Duncan was sacrificing plot in favor of having a super atmospheric climax and it just…kinda…lost me. I left the book not knowing where the story is going—and not in a good way.
The Characterization. I might have been okay with the confusing, slow plot if Duncan had done a good job of building unique characters that I could really connect with and get invested in. But the truth is that—for me, at least—she didn't. The characters all felt stiff and cardboard, with few distinctive characteristics to really make them stand out. Nadya was naive, Serefin was funny, Malachiasz was…metal? But they weren't much more than that and, further, we didn't really hear much about their personal histories, making them even more flat. The one-note characterization made it difficult to connect with the main characters and thus it became more difficult for me to really invest in the story.
All in all, Wicked Saints was a very middle-of-the-road read for me, which is super disappointing as I wanted so badly to love it. The atmosphere, the world, and the prose were all pretty good but it just felt like Duncan forgot about everything aside from those aspects. I wish I could say this book is a new favorite, but the truth is it's a book with a unique premise whose execution made it just extremely average. Will I pick up the sequel? Honestly? I don't know. I didn't hate Wicked Saints, but I'm not particularly invested in it either, so I think for now I'll plan on picking up the sequel from the library, but I can't say I'm invested enough to go out and spend my own money on it, unfortunately.
R A T I N G
★★☆☆☆
T E L L   M E   A L L   A B O U T   I T
Have you read Wicked Saints? What are your thoughts on it?
If you haven't read Wicked Saints, do you plan to read it? Why?